Gaynes Smaleygh is an accomplished Triathlete and participates in annual "Ironman Triathalons". The goal of his Ironman racing is to raise funds for his "Crackman For Kids Foundation".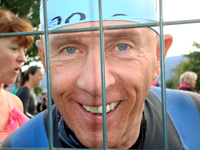 Gaynes stops to pose for a photo at the 2012 Ironman Triathalon in Penticton BC.

The Ironman Triathalon is made up of 3 gruelling disciplines:
The Swim - a 3.8km swim in open water
The Bike - a 180 km bike ride
The Run - to complete the Ironman Triathalon, competitors must also run a 42km Marathon!