We are always looking for high quality, service orientated, performance driven individuals to join our team!
If you are looking for challenge, job satisfaction, monetary reward as well as a great family life explore the possibility of being one of our valued franchisees.
We also have a program for community involvement that can work through our own foundation: Crackman For Kids. We give back to each community we work in by supporting Kids. CKNW Orphans Fund, Elks Kids Camp, Surrey Christmas Fund and many more organizations have all been recipients from our Fund.
One of our mandates is to give back and to be a responsible member in the community!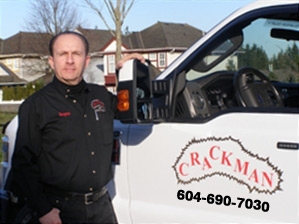 Gaynes Smaleygh Gaynes has been developing crack repair processes for the past 2 decades. He has worked in the customer service industry all his life.
Gaynes is the "Original Crack Man".




The Crackman is mobile and serves the entire Lower Mainland, including North and West Vancouver, Vancouver, Burnaby, Coquitlam, Richmond, Whiterock, Langley, Abbotsford, the Fraser Valley, Squamish, Sunshine Coast, and Whistler.